New to using LendingUSA as a merchant? With this quick and easy guide, you'll be on your way to understanding how LendingUSA can help businesses increase sales and assist customers with a low monthly payment option. In this post, we'll address:
What is LendingUSA?
How to offer LendingUSA to Customers
Starting an Application
Navigating the Merchant Portal
Plus, if you have any further questions, our dedicated representatives are always happy to help.
What is LendingUSA?
Before we get into how to use LendingUSA as a tool for your business, let's start with the basics:
LendingUSA is a point-of-sale financing solution, which allows merchants like you to offer flexible monthly payment options to consumers. With a mission to finance important moments in life, LendingUSA can be a valuable solution for both customers and merchants.
"While you're able to offer a low monthly payment option to customers, merchants are paid within a matter of days," explains Gretchen Van Kleef, a Solution Executive at LendingUSA. "It's a win-win solution that helps both your business and your customers."
Offer LendingUSA Monthly Payments to Every Customer
When considering how you might offer LendingUSA as a payment option, the first thing to recognize is that you never know who might want a more flexible payment option. "We always recommend to our merchants that they offer LendingUSA as a payment option upfront to every customer," says Gretchen. "Regardless of a customer's financial situation, they may simply prefer monthly payments. As a result, be sure that you get in the habit of offering LendingUSA as a monthly payment option to everyone who walks in your door."
Starting an Application
When someone is interested in financing through LendingUSA, the application process is easy. "Depending on the customer, you may prefer to walk them through the application in-store or send them a link to apply in private," says Gretchen. "However, our merchants often complete the application with the customer right in the store."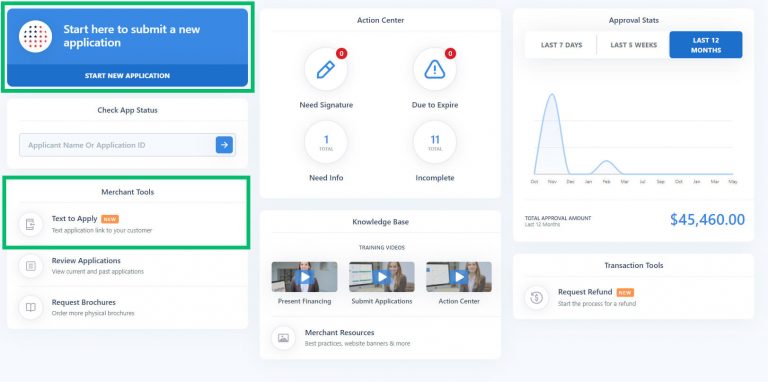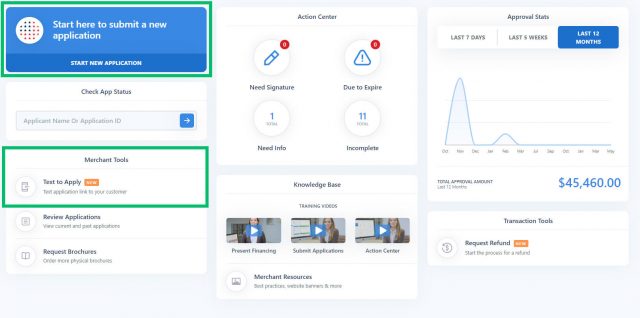 Starting an application through the merchant portal is simple, and you can follow the prompts to help the customer complete it. For additional options, you can send the customer a Text2Apply link through your merchant portal, or even ask your dedicated representative to provide you with a customized link for your business.
Tip: As you help your customer fill out the application, be sure to collect a copy of their identification or driver's license.
The Merchant Portal
Your merchant portal has several resources for merchants in addition to application information. From your main dashboard, you can Start an Application, access our Text2Apply, and easily click to view all applications and statuses.
Additionally, the Merchant Resources Center includes a series of training videos, website banners, and helpful guides.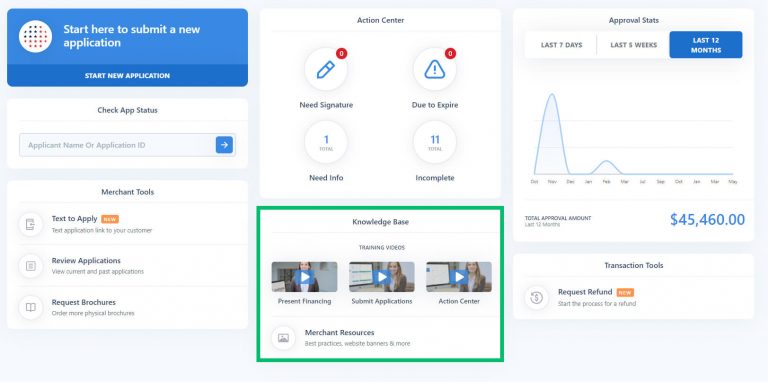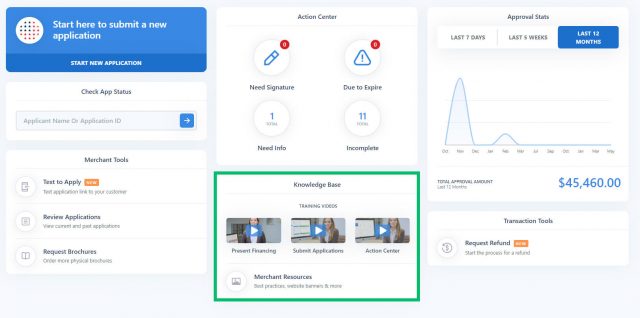 If you're in need of a refresher or a tour, we host a weekly Merchant Portal training webinar. Plus, you can reach out to your dedicated representative to host a customized training specifically for your team. "We love being able to meet everyone on the team and answer specific questions that each employee might have," says Gretchen. "Please reach out to us, as we would love to assist!"

Call us at (800) 994-6177 or email us at [email protected]