Merchant Loan Banners
By now, you know the importance of establishing and maintaining a web presence for your organization. With more and more consumers using the internet to research companies and comparison shop, it's a necessary part of doing business in 2022.
We've created banner advertisements specifically to help you promote LendingUSA on your website. They're a great, free way to show off your payment options and grow your business with very little effort. Whether you want to add a new one to your website or simply want to refresh an outdated banner, our four-step guide will walk you through the process.
Step 1
Log in to your merchant portal and navigate to "Merchant Resources." The portal is your home base for all things financing. Here, your customers can be pre-approved for a loan in seconds, you can manage pending applications, view your financing performance, and access merchant resources like marketing banners.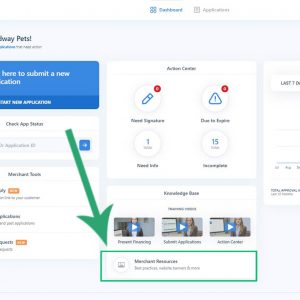 Step 2
From "Merchant Resources," click on the "Banners" tab to browse your options and select the banner you want. The banners are specific to your industry, and we offer a variety of sizes and options to fit seamlessly onto your website.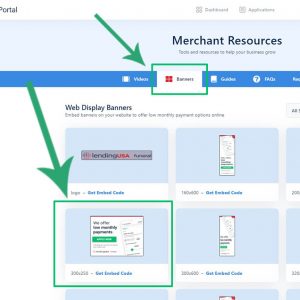 Step 3
Click on the banner you want and copy the HTML code. Adding a banner to your site is just a matter of code. We suggest reaching out to your webmaster with the code and your desired placement on your website. He or she should be able to take it from there.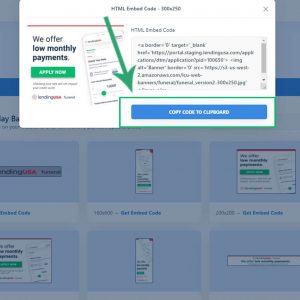 Step 4
Add to your website and watch the applications roll in! Once the new banner is live on your website, any site visitors can submit an application for funding that may only be used at your business. You can view these applications as they come through your LendingUSA portal.