LendingUSA, a leading point-of-sale financing provider, has today announced the addition of three new board members: Scott Carter, Scott Lascelles, and Bryan E. Sullivan. These appointments add decades of leadership experience in finance, marketing, risk management and technology to LendingUSA.
"We are excited to welcome our newest board members to the LendingUSA family," says Camilo Concha, Founder and CEO of LendingUSA. "Mr. Carter, Mr. Lascelles, and Mr. Sullivan will bring invaluable experience and insights to LendingUSA, helping us to continue breaking new ground in the fintech industry while staying true to our mission of financing important moments in life."
Learn more about each of the new additions: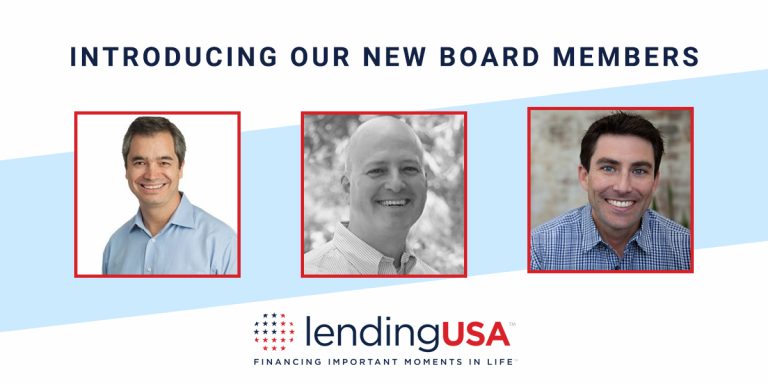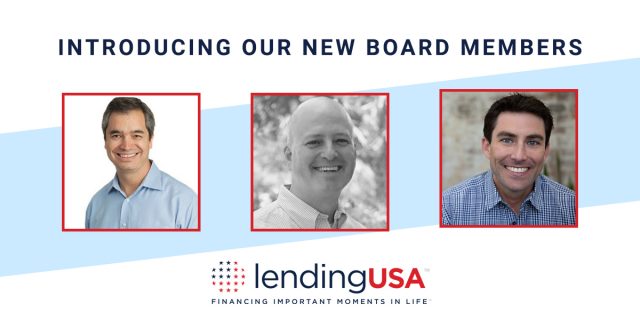 Scott Carter is a seasoned executive with a uniquely diverse range of experiences as a technology business leader. Most recently, Carter served as the COO of Brain Corp., the leading provider of AI for self-navigating robotics. Previously, he served as the CEO of ID Analytics, guiding the company toward more than tripling monthly transaction volume during his tenure. Additionally, Carter has served in many previous executive roles, including the Senior Vice President and global business leader at Experian.
Scott Lascelles is a strategic leader with over twenty years' experience in financial marketing and risk management, currently the CEO and Co-Founder of PrimeRates, a B2B lead generation platform. Lascelles' prior experience includes Chief Marketing Officer for Springleaf Financial Services, Senior Vice President of Retail Risk Management for PNC, and directing Customer Experience at Barclaycard US.
Bryan E. Sullivan is a dynamic executive leader with over twenty years of experience as a proven business operator, private equity and special situation investor, and investment banker. He currently serves as the Executive Vice President and Chief Financial Officer at loanDepot, a holding company which sells mortgage and non-mortgage lending products. Sullivan boasts extensive capital markets expertise as an operator, investor, and banker, with previous roles including Portfolio Manager at PIMCO, and Special Situations Group at Goldman Sachs.